1333km around Sri Lanka to raise awareness for 1333
By Shenali Perera
View(s): 98
On August 29, around 40 cyclists took off from Independence Square on a ride they hope would save the life of at least one person. Fifteen of them would go on to ride 1333 km around Sri Lanka to raise awareness for the toll free 1333 hotline that provides free over-the-phone counselling island-wide.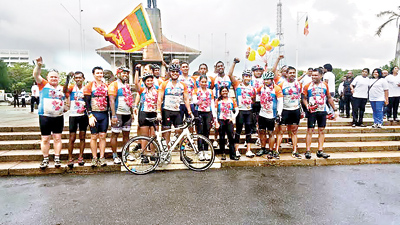 A project of CCC Foundation, working in partnership with Lifeline Australia, CCC line aims to improve mental health and prevent suicide in the country by providing a listening ear and thereby a platform to talk about mental health issues in Sri Lanka.
The bikeathon spanned over 13 days with riders arriving back in Colombo on Thursday September 10, which is also International World Suicide Prevention Day. Aged between 23 and 67, a majority of the riders were locals and Sri Lankans residing in Australia.
They stopped at Kurunegala, Anuradhapura, Kilinochchi, Jaffna, Mullativu, Trincomalee, Polonnaruwa, Mahiyanganaya, Monaragala, Hambantota, Galle and Bentota along the journey where people lined the streets to welcome them.
At each stop, they rode into an art competition organised for children from that area in an effort to encourage children to talk about their problems.
CCC line's manager Ranil Thilakaratne said the turnout at these competitions exceeded their expected numbers with 80-90 kids coming in some places. Each child received a certificate of participation signed by the foundation's ambassador, Kumar Sangakkara, while first, second and third places were chosen and awarded by the riders.
"Right now, we are answering over 100 calls and during the bikeathon it peaked up to about 180 calls a day," said Ranil. One such call, in particular, highlights the power of 1333 to save lives. "While the bikeathon was going on there was a guy on the bridge at Matara and he had seen the 1333 number, got off and called," Ranil told the Sunday Times.
Yet another story unfolded in an artwork by a fourteen-year-old boy who lost his family when his father killed his mother and then committed suicide. "At the back of the artwork he had written, 'if I knew about 1333 then, this would not have happened," said Ranil. "People still don't know about 1333. This is actually a need in Sri Lanka."
The organisation currently has about 70 counsellors, all volunteers, operating six lines in Sinhala, Tamil and English. "Some of us are very lucky because we have family or friends who are willing to listen without judging.
But that doesn't happen, particularly in rural areas. When you discuss a personal issue, it creates stigma. If you have a suicide in your family, you're basically like an outcast in that village," said counsellor Tusitha Kumarakulasingam.
The line's anonymity and guaranteed confidentiality (except in cases that are life threatening) allows callers to speak without fear of stigmatisation. "We get calls from everywhere –office workers being bullied, homosexuals, victims of abuse," said Ranil.
However, staff and time restrictions, as the line is only open from 9 a.m. to 5 p.m., means they do miss calls sometimes. "Nobody is interested in raising funds for mental health issues," said Tusitha. "You're talking about somebody's life and somebody's future." With the successful completion of their second bikeathon this year, plans for the next one in 2016 are already underway.
The organisation hopes to extend 1333 to a 24 hour service in the future with more counsellors and funding. Counsellor recruitment will take place in October and anyone willing to commit can contact Nalini on 011 2739810. To make a donation or for more information about CCC line visit cccfoundation.org.au/cccline/.
If you are feeling suicidal or depressed, call 1333 for help.